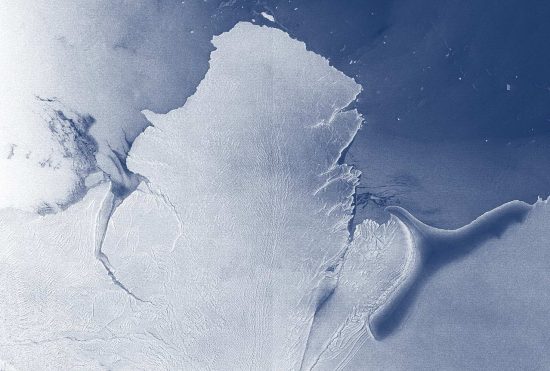 Antarctica ice shelf system (c) European Space Agency
The Weddell Sea covered with Ice (c) Michael Studinger / NASA Goddard Space Flight Center
Emperor Penguin, Atka Bay, Weddell Sea, Antarctica (c) Hannes Grobe/AWI
Krill (c) NOAA
Weddell Sea Sanctuary: The largest marine reserve in the world is to be created
In the Southern Ocean, north of the Antarctic, the largest marine reserve in the world is to be created. Germany has drafted the proposal for a more than 1.8 million square kilometre protected area in the Weddell Sea
The proposed marine reserve is about five times the size of Germany. The protected area is currently being discussed at the annual conference of the competent international Antarctic Commission (CCAMLR) in Hobart, Australia. The WWF has been working for years to provide the unique ecosystems, habitats and species of the Antarctic Weddell Sea under special protection and WWF Germany was involved in a research and development project of the Federal Agency for Nature Conservation in the technical-scientific drafting of the protected area proposal.
"The Weddell Sea is an icy gem that must be permanently protected. This is a race against time. So far, the Weddell Sea has been spared by fishing-fleets because large parts are constantly covered by ice. But climate change will soon provide access to fleets hunting krill and hake. Here we have to make a precaution to preserve one of the last almost untouched regions of the ocean as a retreat for cold-water species," says Heike Vesper, head of marine conservation at WWF Germany. In areas further north of the Weddell Sea - mainly ice-free areas - about 300,000 tons of krill are already fished each year. "The supposed arctic desert is full of life despite the extreme conditions and an indispensable habitat for seabirds, seals and whales. One third of emperor penguins are born here. Blue whales and humpback whales feed on krill swarms every year. The basics of Antarctic life deserve our protection."
The Antarctic Commission CCAMLR is responsible for the management of fisheries and the designation of marine protected areas in the Southern Ocean. The WWF calls on the Federal Government and the EU to defend the boundaries of the Weddell Sea Sanctuary, as defined by scientific data and knowledge, in the forthcoming negotiations with other CCAMLR states and any commercial fisheries interests. The CCAMLR countries must now implement their 2009 Letter of Intent to establish a network of marine protected areas around the Antarctic continent.
To date, two protected areas have been designated by CCAMLR in the international waters of the Southern Ocean:
- South Orkney Islands Southern Shelf Marine Protected Area (2009, 94,000 km², UK Initiative)
- Sea Ross Sea Region Marine Protected Area (2016, 1.55 million km², US and New Zealand initiative).
Written by
DiveSSI
Date
1st November 2018
Share

Also by DiveSSI