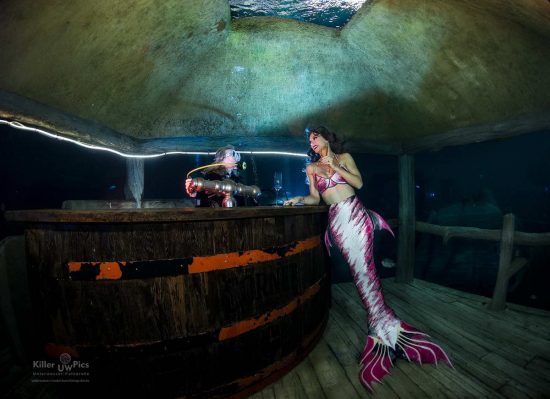 A drink at the underwater bar guarantees a smooth photo shooting session ;-) (c) Konstantin Killer (Model: Mermaid Kat)
TODI indoor dive centre: Mermaid photo shooting (c) Konstantin Killer (Model: Mermaid Kat)
TODI indoor dive centre: Mermaid photo shooting (c) Konstantin (Model: Mermaid Kat)
TODI indoor dive centre (c) Konstantin Killer
TODI indoor dive centre (c) Konstantin Killer
TODI indoor dive centre: Mermaid photo shooting (c) Konstantin Killer (Model: Mermaid Kat)
Konstantin Killer: specialist for underwater model photography
With an eye for details
What makes a good underwater photo? A difficult question, because it is often a spontaneous shot that captures a very special situation during a dive. The situation is different when talking about model photography. Here, hard work, meticulousness and good planning are most important issues. In addition a good eye and a large portion of creativity is needed, because often it is not the motive itself, but the staging, which gives the motive a very special expression.
Konstantin Killer certainly belongs to the category of creative, meticulous hard-working photographers, who caused a sensation with his photos at the last two boat fairs in Düsseldorf with his exhibitions in the lounge of the Taucher.Net booth. Both his model photos last year and his stunning photos of Jason deCaires Taylor's Sculpture Park at the Museo Atlántico in Lanzarote this year in January at the Boat Show caused quite a stir and thrilled the visitors at the Taucher.Net stand.
We wanted to know exactly what makes Konstantin Killer different than the numerous "snap-shooter s" who look through their viewfinders and as often as they trigger the result is mostly mediocre.
Konstantin Killer, born in 1974 former USSR in Novosibirsk, now lives in Mannheim, Germany and works as a project manager for major projects in the field of supply engineering. Even as a child, he felt a big affinity with water. He first returned countless nautical miles aboard recreational sailing vessels before starting scuba diving in 2007. Since then, he has photographed underwater passionately and loves to travel in any kind of water: cold and "dirty" or warm and crystal clear, but his favourites have always been alpine lakes in their alpine landscapes: crystal-clear, cold waters with their mystical underwater structures have a special effect to him.
Initially a sole "winter activity" in indoor pools, he later began with underwater model photography; always fascinated by underwater people, which quickly became a great passion: special lighting, unexpected ideas, complex planning and "the craziest, the better" is his Motto when doing underwater photo shoots. He plans his photos down to the smallest detail and leaves nothing to chance. From the setting of the light to the equipment details, Konstantin always installs his own scenes completely. And he can deal with people. He is an attentive listener and creates a very special atmosphere with his tremendous peace and serenity in his shootings, which have so far led almost all involved model and helper to above-average performances.
Recently, Konstantin was a day in the water with Taucher.Net editor-in-chief Armin Süss in the Indoortauchzentrum TODI in Belgium and photographed a Mermaid for hours and once again shot very special shots. TODI is almost perfect for a indoor photo shooting, because the 36-meter-wide and ten-meter-deep pool is home to thousands of fish, which give the divers the feeling to dive in "the real" sea. Puffer fish and tame piranhas make their tracks here and were completely "stunned" by the unusual underwater activity...
The model Mermaid Kat (Katrin Gray), had to do hard labour. In total, she dived five sessions in only 24 degrees warm water, 30 to 45 minutes per session, without a dive suit. Again and again new attempts, changed perspectives, lighting effects and constantly new camera positions were necessary, until the desired shots were perfect in Konstantins mind. Kat is a professional and knows how to move under water in the given conditions correctly and economically. She operates a shop with equipment for mermaids (www.mermaid-kat-shop.de). And Konstantin Killer was a composer, musician and conductor in one person and although many divers dived through the picture during the normal opening hours of the diving operation of the TODI, the relaxed photographer gets very special shots again. Real killer quality ...
TODI Infos:
https://www.todi.be/nl/
be-MINE 1
3582 Beringen, Belgien
Tel.: +32 (0)11 36 40 40
E-Mail: info@todi.be
TODI reviews (Taucher.Net)
Model: Mermaid KAT
https://mermaidkat.com/
Photographer / Video: Konstantin Killer
www.unterwasser-model-kunstfotografie.de
Backup / Video: Alexandra Schmitt
Dress: Filia Design
Written by
DiveSSI
Date
30th May 2018
Share