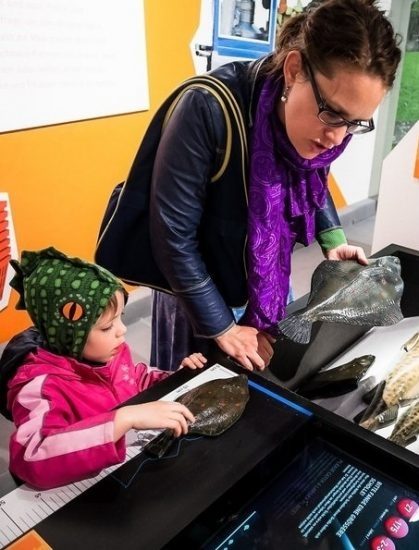 The fish length game from the Cluster of Excellence "The Future Ocean". (c) Ilja Hendel / Science in Dialogue
Learning about sustainable fisheries at the EcoOcean the Cluster of Excellence "The Future Ocean". (c) The Future Ocean
Live earthquake research: Visitors can trigger slight vibrations that are recorded by a seismic sensor. (c) Jan Steffen, GEOMAR
The exhibition ship MS Wissenschaft will host the new "Seas and Oceans" exhibition, under the Year of Science 2016/17. On board are numerous exhibits showcasing the best of marine science at the Kiel Cluster of Excellence "The Future Ocean" and GEOMAR Helmholtz Centre for Ocean Research Kiel. The tour of this floating science centre will be on from May 3rd till 8th in Kiel.
This year, visitors can immerse themselves in the astounding world of the oceans, explore coastal, offshore, deepwater and Arctic habitats, as well as peek over the shoulders of marine scientists (figuratively!) to find out about the work they do. The exhibition aims to highlight the significance of the oceans on our climate, the role they play as a resource and how we can protect and conserve the oceans. The interactive exhibits let visitors find out all these for themselves in a fun and engaging manner.
In addition, GEOMAR will present an interactive exhibit about earthquake research. Here, visitors can trigger a small earthquake, which is then recorded by a seismic sensor. Find out how researchers use sediment cores to learn more about the history of the ocean. From the Cluster of Excellence comes the fish length game. Here, learn the actual size of fish species like plaice, herring or cod before they end up on our dinner plates. If the fish are too small, they cannot reproduce in sufficient numbers and this puts the species at risk. At the EcoOcean, get behind the console to promote sustainable fishing. There is also the "Garbage in the Sea" exhibit which illustrates how long it takes for common everyday objects that have been discarded in the sea to degrade.
This exhibition is a central part of the Year of Science 2016/17, as designated by the German Federal Ministry of Education and Research (BMBF) and Science in Dialogue (WiD) – as we have reported here. It is targeted at schools, youths and families, and is recommended for those ages 12 and above. Admission is free.
The MS Wissenschaft is a converted single cargo ship with an exhibition area covering 600 square metres. Since 2002, it has served as a floating science centre under the current Science Years travelling across Germany every summer. On May 3rd, the MS Wissenschaft will launch its new tour in Kiel with this exhibition and will visit 35 cities in the north of Germany till early September. In January 2017, the ship will be on the waterways in southern Germany.
Information about the ship and the exhibition, registration opportunities for school classes and groups, as well as details about the city stops can be found here.
Info on Science Year: https://www.wissenschaftsjahr.de/
Written by
DiveSSI
Date
20th April 2016
Where
Aquarium GEOMAR, Düsternbrooker Weg, Kiel, Germania
Share