Diving Lake "Grüblsee" in Upper Styria (c) Michael Weberberger
Diving Lake "Grüblsee" in Upper Styria (c) Michael Weberberger
Diving Lake "Grüblsee" in Upper Styria (c) Michael Weberberger
Diving Lake "Grüblsee" in Upper Styria (c) Michael Weberberger
You will also meet sturgeons under water, the largest of which are 180 cm long. (c) Michael Weberberger
Diving School Präbichl and Restaurant at the Lake "Grüblsee" (c) Sabine Hausner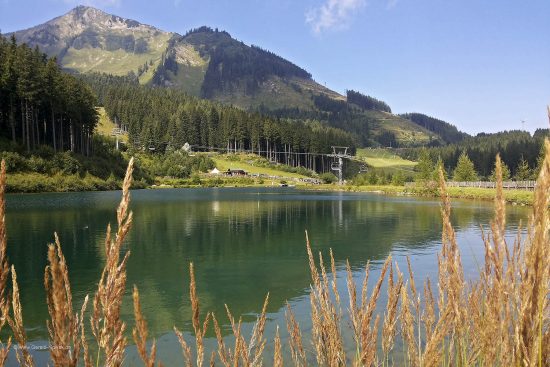 The Grüblsee is probably Austria's most unusual "diving spot" (c) Gerald Nowak
There is a large variety of fish – as many as 500 fish of 14 different species in the small lake (c) Gerald Nowak
Crystal Clear Water - and ..... (c) Michael Weberberger
... many fish - delight all divers. (c) Michael Weberberger
A very special lake in the Alps
Today, we present a very special "lake". In winter, it serves as a water storage for snow cannons; and from spring to late autumn, it becomes a lake for divers. The Grüblsee is probably Austria's most unusual "watering hole", complete with Europe's highest dive centre.
The incredible variety of fish and fabulous visibility make it an "alpine aquarium" in the Upper Styria.
The Grüblsee is an artificial lake, nine metres deep. With foil as floor cover. Almost no water plants. Sounds like a boring lake? Far from it! The lake's main attraction are the fishes. Hundreds of them approach and surround may the diver in a feeding frenzy. Why? In this lake, on a special platform, divers are allowed to feed the fishes from a small capsule containing food. Once the capsule is open, mayhem (to put it lightly) ensues. Then, after all scraps of food are consumed, calm once again returns to the platform – well, till the next diver descends, that is!
The lake also contains a number of statues positioned along a course in the shape of a figure eight along a line mounted on the ground. Other highlights of the lake comes in the form of sturgeon, the largest of which are 180 cm long.
When in the lake, it is important to maintain your buoyancy and to be mindful about your finning techniques. This reduces the possibility of stirred-up mud and silt affecting the visibility of the water.
In winter, the water level in the frozen and snow-covered lake decreases by three to five metres, due to the mobilisation of
snowmaking equipment. During this time, the diving centre turns into a ski hut.
Although the flora is limited to just a few aquatic plants, there is a large variety of fish – as many as 500 fish of 14 different species in the small lake.
At the lake you will find the diving school Präbichl, run by Robert Marschnig and Sabine Hausner. Registration is required! The 2017 season starts this weekend..
If you want to visit the Alpenaquarium Grüblsee to see the fishes in the near future, you should register in advance, as the permitted number of divers every day is limited.
The owners, Sabine Hausner and Robert Marschnig, look forward to your visit and will be happy to tell you more about the exciting underwater activities over a meal and a glass of wine from the kitchen of their own restaurant.
More information:
Web: www.grueblsee.at
Mail: sabine@swat-team.at
Written by
DiveSSI
Date
4th May 2017
Where
Grübl 9, 8794 Vordernberg, Österreich
Share

Also by DiveSSI