Discover tiny underwater creatures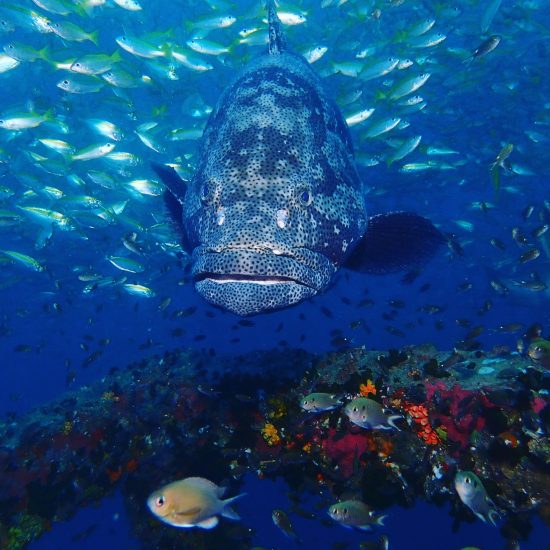 Many different types of fish can be seen during a dive at Sail Rock
Snorkel, swim and dive with whale sharks
Commonly heralded as the best dive site in the Gulf of Thailand, Sail Rock lies equidistant between Koh Phangan and Koh Tao.
Important facts
This must-see site is characterized by a large mushroom-shaped rock that juts out of the crystal blue water, attracting a huge variety of marine life. The water is usually a balmy 29 C/84 F and is usually very calm, thanks to the protection from the Thai Peninsula.
Sail Rock is perfect for both scuba divers and freedivers of all experience levels. It features a maximum depth of 40 meters and a ledge at a convenient 12 meters that is perfect for training.
It also features the chimney, a fantastic swim-through that diagonally fractures through the rock down to 18 meters. A huge range of pelagic and reef fish frequent this dive site, with massive schools of barracuda, batfish and trevallies commonly sighted. It is also commonly visited by whale sharks, making this site a diver's best chance to witness them in the region.
Bright, healthy corals cover the rock all the way down to around 18 meters, providing protection for the incredible range of macro species for the more keen-eyed divers to discover. Experienced divers may also find the secret pinnacle just off the north side of the central dive site.
Where can you find our Dive Site of the Month - Sail Rock?
Sail Rock is a short distance from Koh Phangan, but a little further for divers travelling from Koh Tao or Koh Samui. It is visited daily from all three locations. There is no specific season for visiting this site however, March and April always seem to have good visibility.
For a full list of dive centers that visit Sail Rock, click HERE and search for your favorite island destination of Koh Phangan, Koh Samui or Koh Tao.
Sources:
images©Chanchot-Piriyasatit
Written by
DiveSSI
Date
17th July 2019
Share

Also by DiveSSI