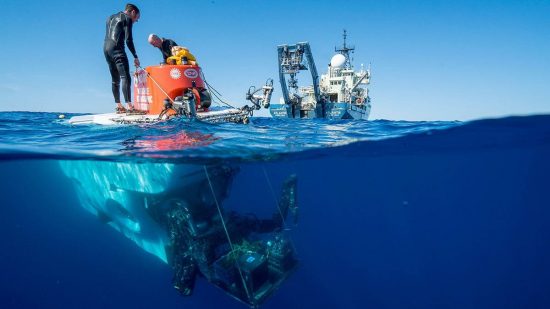 Diving boat "Alvin", (c) Luis Lamar, Woods Hole Oceanographic Institution
The manned dive boat "Alvin" leaves the research ship "Atlantis" and begins its 5000th dive on November 25, 2018, (c) Drew Bewley, Woods Hole Oceanographic Institution
"Alvin" is brought back aboard the research vessel "Atlantis" after the 5,000. Dive, (c) Drew Bewely, Woods Hole Oceanographic Institution
Manned deep-sea research dive boat in use for over 50 years
On November 25, 2018 "Alvin", USA's only manned deep sea research dive boat, reached another milestone in its long career, when it completed its 5,000th dive during an expedition to the Guaymas Basin in the Gulf of California.
The dive boat "Alvin" belongs to the US Navy and is operated by the Woods Hole Oceanographic Institution (WHOI). It was officially commissioned on June 5, 1964, and has undergone a number of improvements and conversions over the decades. The dive boat has been completely redesigned and its capabilities have been greatly expanded.
On an expedition in 1977, scientists discovered hot springs on the seabed while doing a deep-dive with "Alvin". The discovery of these hydrothermal springs has allowed scientists to solve the mystery of heat flow from the earth's crust into the ocean. For the first time, communities of deep-sea organisms were observed that were previously completely unknown. Outside the reach of sunlight, communities were driven not by photosynthesis but by chemosynthesis using chemicals flowing from the seabed.
"'Alvin' has revolutionized our understanding of the extremes that life can tolerate, and has led us to rethink the origin of life on our planet," says Adam Soule, chief scientist at the National Deep Submergence Facility (NDSF) Submarine and operates. "The dive boat continues to expand our knowledge of where and how life could exist on other planets."
"Alvin" has completed many significant missions over the decades, including helping recover a lost hydrogen bomb, exploring the "Titanic" wreck, and studying the impact on deep-sea coral communities in the Gulf of Mexico following the devastating oil spill on the rig "Deepwater Horizon".
"Alvin" is one of only five deep-sea dive boats in the world. The "under water workhorse" performs about 100 dives per year.
Currently, "Alvin" reaches a depth of 4,500 meters, giving researchers personal access - for dives of up to ten hours - to about two-thirds of the global seabed area. The submersible will soon be retrofitted so that the dives can reach depths of up to 6,500 meters.
More information: http://www.whoi.edu.
Video: https://vimeo.com/302629779
Written by
DiveSSI
Date
27th November 2018
Share

Also by DiveSSI