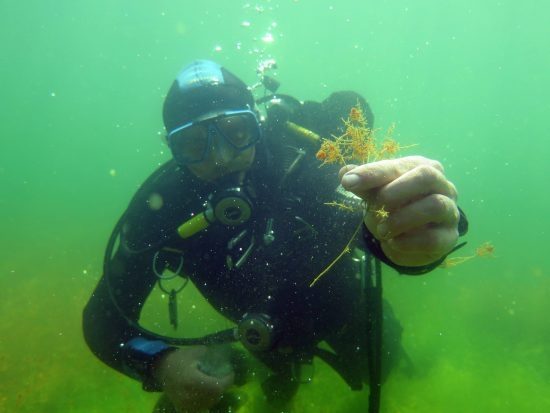 (c) Silke Oldorff
The Brandenburg project "Diving for Conservation" has been nominated for the European Natura 2000 Award by the European Commission. Jointly managed by the NABU Regional Association Gransee e.V., Stechlin-Ruppin Land Nature Park and Diving Association of Brandenburg, it is one of the 24 finalists and competes with other entries from Spain, France, England and Greece in the "Reconciling Interests/Perceptions" section of the competition.
This project is also vying for the first-ever Citizen's Award. Up till midnight on 8 May 2016, you can show your support for the project by voting for it at www.natura2000award-application.eu/finalists under the "Diving for Conservation" section.
With this nomination, the spotlight is on the voluntary cooperation and collaboration of scuba divers and conservationists in the quest of nature conservation, which began in 2007 in the Stechlin-Ruppin region and has now established itself nationwide. Today, both scuba divers and conservationists work together to map aquatic plants and to assess the quality of the water based on the data collected.
In August 2013, this project was awarded the German "Naturschutzpreis", thus paving the way for it to be implemented in other German states in the spring 2014.
Since February 2016, due to a cooperation agreement between the Federation of NABU and the Association of German Sports Diver (VDST), increasing numbers of divers are now involved in the protection of Germany's waters. A common curriculum for a special course for recreational dive training nationwide has been developed.
The European Natura 2000 Award will be awarded on 23 May 2016 in Brussels.
Source: http://www.nabu-naturschutztauchen.de
Written by
DiveSSI
Date
9th May 2016
Share

Also by DiveSSI