obart, Australia, on 2 November 2018. Antarctica ice shelf system (c) European Space Agency
The Weddell Sea covered with Ice (c) Michael Studinger / NASA Goddard Space Flight Center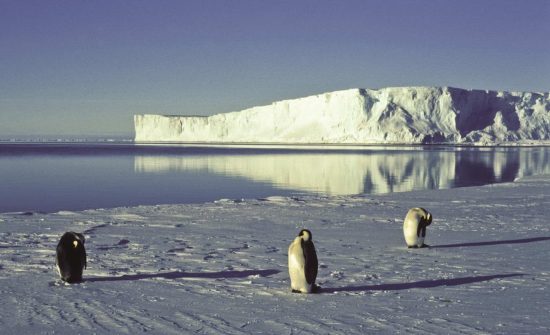 Emperor Penguin, Atka Bay, Weddell Sea, Antarctica (c) Hannes Grobe/AWI
Krill (c) NOAA
Russia, China and Norway prevent protection of the Wedell Sea
According to media reports, the Antarctic Commission CCAMLR has decided against setting up a protected area in the Southern Ocean at its meeting in Hobart, Australia, on 2 November 2018.
Russia, China, and Norway - so at least three out of the 25 CCAMLR members rejected the proposal initiated by Germany - we reported - to set up the world's largest marine sanctuary in the mostly untouched Weddell Sea. Thus they prevented the necessary consensus decision. Almost three million people around the world had signed up to protect the Weddell Sea from exploitation. The planned sanctuary was planned to protect the area against large fishing fleets "harvesting" e.g. masses of krill commented Greenpeace marine expert Thilo Maack:
"The Commission today missed the opportunity to respond to the urgent challenges of protecting the seas. Earth heating, plastic waste and overfishing are very negative effects to our oceans and their inhabitants. Without extended protected areas, as many governments and millions of people demand for the Weddell Sea, the oceans are almost without chance against these threats. Only with such sanctuaries we can prevent the global species extinction accelerate even under water.
If the Antarctic Commission continues to allow countries such as Russia and China to block the protection of the South Pole, it will fail to do its job. An organisation that has been set up to protect the Antarctic but is dominated by the interests of individual member states is obviously not part of the solution. The United Nations must draw the consequences from this and, with the Global Overseas Protection Agreement, quickly ensure that 30 percent of the oceans will be protected in the near future."
Written by
DiveSSI
Date
2nd November 2018
Share

Also by DiveSSI